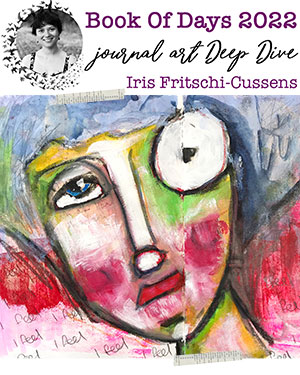 Hello everyone, I'm super excited to announce I will be teaching on Book of Days again in 2022! Absolutely LOVE this year-long course for its focus on deep and meaningful art journaling, and on our own expression as a way of finding out more about ourselves. That's exactly what I seek to do in my art practice, and it's what's most important to me when I teach art, so it's a perfect match!
You can read all about the course and whether it's right for you over on the course page here.
Registration opens on 15 November, so jot that down in your calendar/planner now!
In the meantime, let me tell you more about my givaway for one free spot!
To enter the giveaway please do the following 2 things:
1. Click the link to the Book of Days registration page and bookmark it
2. Leave a comment below
The winner will be picked on 15 November and will be contacted via email.
*Links in this post are affiliate links, which supports me & helps me provide for my family at no extra cost to you. I appreciate it so much when you decide to sign up via one of my links, thank you!
PS I purposefully decided against requiring you to follow me, tag people or sign up to anything for this giveaway, because I want that to be your own choice. If you are new here and think you might like to follow my art and creative journey, I invite you to check out my Instagram and/or sign up to my newsletter. And if you know anyone you would like to share this giveaway (or my art) with, please feel free to do so! Shares are so helpful and personally I think they are one of the most meaningful ways of discovering new artists.
UPDATE 16-Nov: THIS GIVEAWAY IS NOW CLOSED. THANK YOU TO EVERYONE WHO ENTERED! The winner of the giveaway is Jacqueline "Thank you for this opportunity. I'd love to take part in BOD. It Looks like a Lot of fun and good stuff…" who was randomly selected from all entries, and has been contacted via email