I looove art supplies (and have spent way too much money on them over the years, probably a lot on useless stuff) so I thought you might like to know my favourite supplies. As a consequence these are supplies I use all the time and in almost all my work. This top 10 is in no particular order because it's never just one thing that is the greatest, with mixed media it's all about the effect things produce in combination.
Caran d'Ache Neocolor II Watersoluble
I looooooooove these babies! They come in so many different colours. I like that you can buy tins as well as single ones. I've got the tin of 15 and have got about 20 more loose ones of various shades for faces and vibrant backgrounds. I especially like their versatility, you can use them as a wash for backgrounds or use less water to make them more opaque; you can use them to paint faces and figures and other more detailed things; you can use them undiluted as a regular crayon. Almost every single piece of art I create, whether it's an art journal page or a full blown painting on wood or canvas, has me using at least one of these.
White Acrylic Paint / Gesso
So simple but absolutely essential. I remember being so disappointed when I was a child when I was told white was not a colour! Nevertheless I love using it. Acrylic paint is especially nice to create texture with by building it up really thick (heavy body acrylic paint is good for this). Gesso is lovely for brayering onto the page and create texture that way. Acrylic paint has more of a plastic-y sheen to it, whereas gesso is more matte.
Gel Medium
I use Golden which I love, it's expensive so other brands might work as well, I haven't tried any others. Gel medium has many uses I'm sure, but I use it mainly as either a glue for three dimensional objects or to create raised texture. It is great for gluing because it dries clear AND remains flexible. That means things are less likely to fall off over time which is always a plus. It's nice for texture because it retains its shape when it dries (if you layer it on thick it needs quite a long time to dry though!) and you can mix it with paint for colour or you could even add other fun things like glitter or coloured sand. You can pretty much go wild and gel medium will stand up to it!
Heat/Embossing Tool
Also called a heat gun or embossing gun this one isn't very exciting but it's so so nice to have. I dislike having to wait for things to dry, it interrupts my creative flow. Having a tool to speed up the drying of your paint so you can continue your work is easily overlooked but to me it really makes the process much more enjoyable. The one I have has two settings, a 'low heat' one (still very hot though, like a hair-dryer on the hottest setting) for speeding up drying times and a 'high heat' one (incredibly hot, handle with lots of care!) for embossing.
I don't do much embossing but I have noticed some areas to take care: one, if you point it at any acrylics for too long, they start bubbling which may spoil your work (or on the other hand you can use this effect to your advantage and create awesome texture!) Two, it will melt beeswax in a heartbeat (and may also 'blow' it into a different direction from where it was), which is great if that's what you're after but if it's not just make sure to apply your beeswax only after you're finished with any embossing.
Beeswax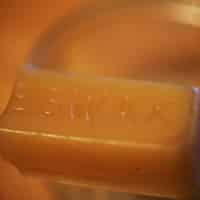 It smells GORGEOUS! I find working with beeswax very soothing. It smells so nice and adds a dreamy look and texture to any piece. You can add little elements inside it like glitter or other small objects. Do be aware that if you layer it on very thick it becomes opaque. I use a quilting iron to melt the wax and smooth it over my work. Then afterwards I either leave it like that or sometimes I scratch into the surface (you can use an empty ballpoint, the end of a paperclip or anything else that creates interesting texture). Sometimes I cover a whole piece with beeswax as a final unifying step, and other times I just put it in select areas. Another fun way to use it is to create a 'resist': beeswax will resist most products you put on it, so you can drip some beeswax on your piece and then spray walnut ink on top, the ink will stay on the wax-free bits but rub off the parts where the wax is (as long as it's smooth, if you created texture into the wax the ink will settle in the crevices which creates a more grungy look).
Stamps
I know that's quite a broad category there but there are so many out there that are wonderful! I love using floral or grungy stamps as an element in creating a complex layered backgrounds. At least one set of alphabet stamps are integral to art journalling, they really add to that recognisable art journal aesthetic.
I love acrylic stamps, they are unmounted stamps made of acrylic (they are seethrough) and you use an acrylic block to mount them (they stick to it automatically and come off easily, no glue needed). The fact that the stamps & block are seethrough helps with placement and you can also mount more than one stamp on a block at a time which is handy for lettering or adding a group of elements in one go. You can wash them in soapy water to clean them (they won't lose their stickiness!) which is another plus.
Uni Posca Markers
There are a lot of markers that promise to write on anything, but few actually deliver. These are the best I've tried! They even write over (watersoluble) oil pastels, as long as you are careful and don't press too hard. When you write with them the flow is quite 'inky' (so be careful because they will smudge before they're dry!) unlike felt tip pens or some other markers which can be really dry, and thus don't write on textured or more complex surfaces.
They are quite expensive but investing in at least the black and white is well worth it. Even the lighter colours go on opaque. They are great for adding text to pages (the thinnest size is nice for writing and doodles), adding accents around elements or filling areas in with colour. They are waterproof when dry, which is great because they won't smudge.
Book Pages
I use a cheap paperback I knew I wouldn't read again, but you can also use newspaper, phonebook pages etc. The small dense lettering can really add interest to a page, either as part of a complex layered background or perhaps as a shape cut out from the paper. Printed papers tend to absorb paint very easily which makes it very easy to integrate them into a background and give them colour. Book pages tend to already be slightly brown/yellowish which is much nicer on the eye than black text on a white background.
Wood
I love working on wood as a surface. It can be a bit challenging due to the texture, but at the same time that is exactly what is so great about it. The wood grain and imperfections add to the overall look of the painting. It's a very forgiving surface for using a lot of materials on, especially when you're working with wet paint and mediums. It's also very solid so you can attach 3d or heavier objects more easily. And you can drill into it either for artistic purposes or to attach ribbon/twine to hang it with.
Embellishments
A broad category but they are so much fun! Embellishments can really add something to a piece, either used sparingly as a focus point or used in abundance to add complexity and texture. Because there are so many of them it's a lot of fun shopping for them as well (or finding them in your house, like bottle caps or dice!) and then integrating them into your pieces. I'm not into scrapbooking but I always find scrapbooking embellishments can work well in mixed media art: brads, eyelets, glitter, confetti, rub ons, raised stickers, ribbon etc